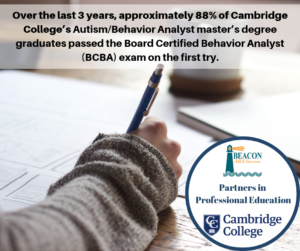 Here at Beacon ABA, we value our employees and want them to gain the most out of their experience here. We are proud to offer unique professional development opportunities including a partnership with Cambridge College. Staff earn their Masters of Education with a concentration in Autism Spectrum Disorders while working for Beacon. The Cambridge College program is a hybrid program, with elements of both online and in-person classes. All BCBA preparation (ABA courses) have three mandatory live meetings over the course of each semester, while a few of the education classes (although not all) are solely online. The program typically takes students 2- 2.5 years to complete and is designed to occur primarily at night and on weekends to meet the needs of working student's schedules.  Beacon provides significant tuition assistance to qualified employees. In addition, many of Beacon's senior staff serve as Adjunct Faculty in the Master's Program at Cambridge College.
"I began the program to do better for not only my future, but for the future of the clients I serve. It has been a great experience to be a behavior therapist, but becoming a BCBA is one of the most challenging and rewarding experiences of my life," says Sam Cross, who is currently in the program. She adds, "The program has helped me better understand why we do the things we do. The program has also helped me in writing reports and managing my time better. I hope the completion of the Cambridge College program will advance my career and mold me into the best BCBA I can be and to make a difference in the lives of the clients I will serve in the future."
As the fall semester begins, we wish our employees the best of luck in their studies!